Women Work Clothes – A Retrospective in Female Fashion
Lets face it, in today's modern age, most women work full-time positions. Still, the workplace can be an interesting place to play with gender roles, sexuality, and class. And the way you dress to work defines what you do, where you work, and how you work it. For investment bankers, the "suit" look is dissected maliciously; executives judge their future slaves by the color, design and brand of the garments. More specifically, this post will focus on the visual language of office uniform when it comes to "working girls". Let's explore how women work clothes have changed over the past century. Ready to go back in time with us? Here, we go!
LETS START WITH THE 50's.

If you were a working girl during the 1950's you were either on crack, a prostitute, or divorced. The definition of working girls in the 50's really means you are working inside your home- cooking, cleaning. Lets take a look at their fashions, and see how it reflects their lifestyle: notice the obligatory aprons, waist clinching bodice, and the full circle skirt. Lovely, truly lovely.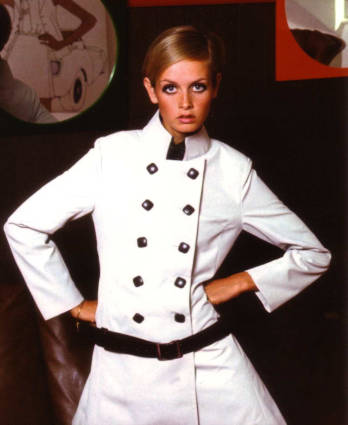 THE 60's WORKING GIRL.

The sixties working girl uniform changes slightly from what was known before, women are more encouraged to work, taking clerical, secretarial, or even sales associate jobs at various companies. Of course there are always the select few women who became doctors and executives, but since we are keeping things simple here lets not get carried away. The typical uniform consisted of a knee length skirt, a blouse, and a vest. She could have also worn a long sleeved shift dress with button details. The silhouette is straight, with a slight A-line twist. This was a dramatic change from the silhouette from the previous decade.
DISCO DISCO 70's
The seventies saw a higher rise of working girls. As women's rights progressed and birth control was available (still taboo of course), women saw more freedom and rights. By this point I'd say there was a strong divide between the housewife leech, and the independent working woman. The jobs were still limited, as most men took hold of capitalist America. Many women still took jobs only as a venue to meet men. Here are some pictures of the film 9-5 with Dolly Parton and Jane Fonda. One of the major additions to seventies working girl uniform was the BISHOP SLEEVE, which is slighty puffier at the wrist than at the top. Look at these sex kittens, don't you just want to drool over the dorky glasses and flower prints? What about the heavy usage of colored eye shadow? And the permed hair which functions more like a bird's nest? This kind of bouffant actually reminds me of the Marie Antoinette times.
I LOVE THE 80's

Think Donna Karan body suits, full men's pantsuits with broad shoulders, GLITZ, GLAMOUR, chunky gold jewels, and last but not least; heavy eyeliner and crazy red lip. YES we love the eighties. The epitome of the EIGHTIES power dressing movement captured on film would be WORKING GIRL with Melanie Griffith. This is one of my all time faves and the outfits of this movie captures this time so perfectly. I STILL DON'T UNDERSTAND padded shoulders, but hey, who really understands the body suit? I don't understand any of it, but it surely is great in all its cracked out goodness.
90's OFFICE FASHION
Heather locklear in Melrose Place defines the work uniform pretty well, and you know she got a lot of bootay on that show, just from her hemlines. Look at the hot miniskirt suit in RED. You gotta love the nineties. Outfits like this were quite typical, and the 80's suit still continued on, just not without the padded shoulders. Oh, lets not forget Sharon stone in Basic Instinct and her outfit in the smoky questioning scene. That kind of working girl hotness cant' be beat.
Enjoy this post? Let's switch it up. Check out our take on the working man's wardrobe here!